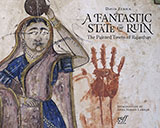 A Fantastic State of Ruin - The Painted Towns of Rajasthan
"This study set in the communities of Shekhawati reveals a rich immediacy of color, place, and the lived experience.  David Zurick has an intuitive ability for capturing the built environment and its inhabitants in a way that synthesizes photography and geography. We are invited to participate in a visual poetry fastened to historical doors of discovery."
- Alan Marcus, film practitioner, cultural historian and Professor of Film and Visual Culture at King's College, University of Aberdeen, author (with Dietrich Neumann) of Visualizing the City
"Here is a rare and original testimony to a fascinating world that few of us know anything about.  David Zurick has captured the soul of a place. A very patient and very loving look at a community that played an important role in India's history and culture."
- Eric Valli, acclaimed photographer and Academy Award-nominated filmmaker, author of Caravans of the Himalaya
"After more than a decade living in that 'Fantastic State of Ruin,' working in Shekhawati on an array of handsome painted buildings gently sinking towards ruin, I find David Zurick's photographs very evocative. He has created a neatly-observed visual biography of Shekhawati."
- Ilay Cooper, art historian, author of Rajasthan: Exploring Painted Shekhawati
"There is something at once melancholy and celebratory about David Zurick's wonderfully wistful A Fantastic State of Ruin. This stunning collection of photographs of desert, painted walls, and moldering mansions, among other marvels, forms a meditation on degeneration and persistence, the ephemeral and eternal. Exquisitely painted murals are splendidly rendered. Once sumptuous havelis seem haunted by ghosts. His portraits of the inhabitants of the desert towns – cameleers, potters, bangle sellers, snake charmers, gypsies, tailors, women and children – are no less beautiful and moving. There are echoes, faint but stirring, of the poetry recited and music played for those wealthy traders and their loving women."
- Lee Siegel, India Scholar, magician, New York Times Notable Book of the Year author of Love in a Dead Language
"On misty winter mornings in Shekhawati, the vibrant colors pierce the fog, the shapes of magnificent havelis loom out of the mist, and the streets and desert roads bustle with quiet activity. David Zurick has captured a remarkable sense of place here, which will transport any viewer to some of the world's greatest cultural marvels, inhabited by the friendliest and hardest-working people you are ever likely to meet."
- Paul Robbins, Director of the Nelson Institute for Environmental Studies, University of Wisconsin, award-winning author of Political Ecology
"A Fantastic State of Ruin is a compelling book offering a superb tour of forsaken and beautiful havelis, frescoes, and wall murals built by the Marwari trading community in the Shekhawati region of Rajasthan, India. An enchanting, beautiful book that continues to amaze, captivate and enlighten.  The efforts to conserve the frescoes and wall murals are commendable."
- Pradyumna P. Karan, Distinguished Professor Emeritus, University of Kentucky, author of The Changing Face of Tibet
Order from the Goff Books or Amazon. Watch book trailer.
Morning Coffee at the Golden Pond: Seeing a World in the Garden

Silver Award Winner 2018 Nautilus Book Awards!
"As the neighbor of a small pond myself, I found these meditations lovely in their simplicity. And--often the case with ponds--there's more depth there than you might think!"
- Bill McKibben, author of Radio Free Vermont
"Seductively, this work unfolds a geography of the sacred that is both local and global, both meditation and contemplation. It offers readers diverse ways of living and being in the world."
- bell hooks, author of All About Love
"This book is a journey into the depths of life and our contemporary challenges. Rarely have I seen the local and global more elegantly juxtaposed. The result is nothing short of masterful."
- Mary Evelyn Tucker, Yale Forum on Religion and Ecology and author of
Journey of the Universe
"What a journey! David Zurick takes us on an epic pilgrimage across sacred landscapes around the world. The outer pilgrimage is rugged and raw, full of grit and beauty. And the inner journey illuminates and connects us to the deeper aspects of what it means to be human—empathy, understanding, and connectedness."
- Matteo Pistono, author of Meditation and In the Shadow of the Buddha
Order from the Shanti Arts or Amazon. Watch book trailer.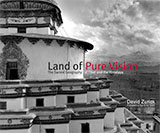 Land of Pure Vision - The Sacred Geography of Tibet and the Himalaya
Land of Pure Vision explores the topic of sacred geography through a series of black and white, large format photographs recounting the artist's picture pilgrimage across Tibet and the Himalaya. It interweaves holy places into a cohesive landscape of transcendent beauty and inspiration. The Oscar-nominated film director Eric Valli describes this work as "a love story; a wide and long pilgrimage," and internationally-acclaimed literary critic Jonathan Mirsky calls it "evocative, alive, luminous, and masterful."
Order from the University Press of Kentucky or Amazon. Watch book trailer.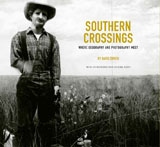 Southern Crossings
Offers a fresh visual perspective on one of the nation's most distinct regions. Zurick's blending of insight and artistic vision is a model for landscape photographers to emulate for years to come (book jacket). "The intersection of geography and photography proves a stunningly fruitful combination in Southern Crossings. The photographs and text embody a striking precision of place." - Charles Reagan Wilson, Professor of Southern Studies, University of Michigan (book jacket). "Those who think they know the South... will learn things aren't always what they seem." The Charleston Post and Courier.
Order from the University of Georgia Press or Amazon.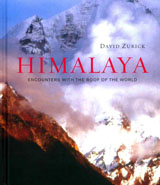 Himalaya: Encounters with the roof the world
"For more than thirty-five years, David Zurick-one of the world's foremost experts and writers on the Himalaya-has been trekking this remote, dramatic region and documenting its magnificent geographical features. In this, his third book on the Himalaya, Zurick offers a different and more personal appraisal of the region, detailing his own intimate experiences with the environment and the people who live there. In a clear, conversational style, Zurick covers a wide array of topics, from the interplay of different religions in Kathmandu to the economic and social changes transpiring in Bhutan to the fragile frontier of Tibet (Amazon book description). "This book works its magic admirably." - Tom Fricke, Professor of Anthropology, University Michigan (book jacket).
Order from the University of Chicago Press or Amazon.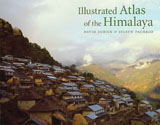 Illustrated Atlas of the Himalaya
WINNER, National Outdoor Book Award. "Brilliant... with clarity and passion," San Fransisco Chronicle. "Cartographic triumph," Foreward Magazine. "Everything you could ever want to know of the Himalaya," Seattle Times. "Simply gorgeous," Missoulian Sunday. "A fascinating read," Geographical, Royal Geographical Society. "Remarkable... with this atlas Zurick is joining the legendary chroniclers of the Himalaya," Geographical Review.
Order from the University Press of Kentucky or Amazon.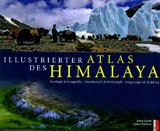 Illustrierter Atlas des Himalaya
German language edition of Illustrated Atlas of the Himalaya.
Order from Amazon.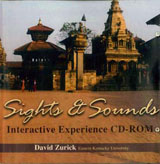 Sights and Sounds
This interactive CD provides an overview of world region through music and photographs. Available in limited supply from McGraw-Hill Publishers.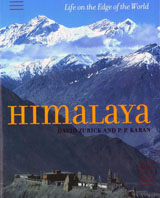 Himalaya: Life on the edge of the world
"Thoroughly researched, engagingly-written, and lavishly illustrated, Himalaya provides a compelling account of the mountain range's natural history, cultural diversity, environmental predicament, and future survival." (book jacket). "Amply illustrated, and written in a style suitable for both academics and mountain lovers, [Himalaya] tells the beauty of the mountains." Mountain Forum.
Order from Amazon.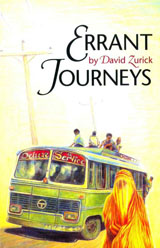 Errant Journeys
FINALIST, Banff Mountain Book Award. "A profoundly self-reflective meditation on the political, cultural, spiritual, and ecological ramifications of an adventure travel industry that's driven by 'the West's own disenchantment with itself' (book jacket). "Zurick may not dissuade you from taking your next trip, but he's sure to change the way you experience it." OUTSIDE Magazine. "David Zurick writes with an intensity that comes from having seen these places himself." - James Duncan, Professor of Geography, Cambridge University (book jacket).
Order from Amazon.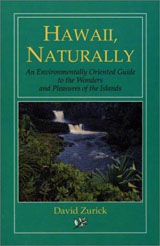 Hawaii, Naturally
"For Hawaii-bound visitors seeking natural beauty, historical sites, and the culture that supports environmental activities, botanical gardens, and special nature programs. Following an introduction to the creation of the islands, Zurick discusses alternative energy, aquaculture, hiking, camping, preserves, parks, recycling, water sports, and environmental education. Island by island, he reviews natural attractions, activities, and alternative lodgings. Useful, concise, and well written, this will interest campers, younger, budget-constrained visitors, and naturalists." The Library Journal.
Order from Amazon.